In 1971, Leah Curry-Rood and Larry Rood, guided by a respect for the work of teachers and parents of young children, started a company called Gryphon House, which began as a distributer of quality children's books. In 1979, Gryphon House expanded the business to include the distribution of teacher resource books.
Gryphon House became a publisher in 1981. We published two books that year. One of the original books, Bubbles, Rainbows, and Worms, is still in print.
We currently have a backlist of nearly 200 titles, including beloved authors like Pam Schiller, MaryAnn F. Kohl, and Jackie Silberg. We are proud to be growing our list year after year. In 2010, we will publish more than 15 new titles, and begin exciting partnerships with Between the Lions™ and Nemours.
The face of Gryphon House has changed over the years, but we still strive to publish and distribute the highest-quality books for educators, parents, and caregivers.
I got the chance to review :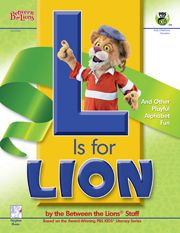 Between the Lions is an award-winning PBS KIDS® series that helps children gain literacy skills through games, songs, and stories! Now, withL Is for Lion, parents and teachers can expand on what children love about their favorite show with activities that make learning letters easy and entertaining.
Each letter of the alphabet has two full pages of activities and ideas, including:
Foods to enjoy that begin with the letter

Games or activities that reinforce the shape or sound of the letter

A song, poem, or tongue twister featuring the letter

Suggestions of books to read
Since I spend a lot of time working with my kids on learning, we mastered numbers, and I've been struggling to teach my 4 year old letters, but L is for Lion has helped me with ideas, and we have come along way in a short time.
Curious kids will delight in the 50 fun-filled recipes in The Budding Chef! Full of great ways for parents and their budding chefs to have fun together, this introduction to cooking is brimming with kitchen adventures and is perfect for kids aged 3 to 6. The easy-to-follow instructions and easy-to-find ingredients helps parents share their love of cooking in kid-friendly ways while creating special moments that they—and their child—will cherish forever. With a cup of wonder, a teaspoon of laughter, and a scoop of fun, these recipes bring parents and children together to share magical moments!
What child doesn't love to help in the kitchen. My 4 year old when ever I'm cooking asks to help, but sometimes that just isn't possible, I truly love this book because it provides us with things that are perfect for her, and less frustration for me, so cooking with the kids is actually fun.